Complete Odor Removal – Guaranteed!

We understand how embarrassing smelly rugs can be! Believe it or not, most of the area rugs we get in for cleaning have some kind of pre-existing odor problem. The good news is that it doesn't matter if the odors are from pet accidents, nicotine, cooking, or just an overall "wet dog" smell. In almost all cases, we are able to tackle the problem at the source, and completely remove the odor.
When we immerse your rugs in lots of water, treat them with cleaning solutions designed to gently remove embedded soil and other contaminants, and make sure those solutions reach the top, underside AND the inside foundation yarns of your rug, we can guarantee odor removal.
Whatever pollutants are circulating in the air of our homes will eventually land on the floor, and into the fibers of our rug. Odors get trapped in the fibers, and vacuuming does not release them. The only way to remove odors from your area rugs is to wash them out – treating the cause of the odor at the source. Sometimes we even employ special equipment to locate hard to find stains.
 The only exclusions to our guarantee are with rugs that have a tufted construction instead of a woven one. Unfortunately, tufted rugs are made in a way that does not hold up to the kind of cleaning necessary to guarantee odor removal. Also, we must occasionally decline to treat an area rug that has such extreme pet urine damage that the foundation fibers are cracking and have become rotten.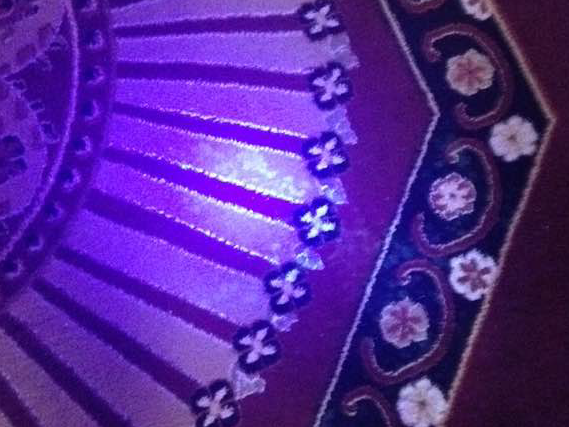 Pet urine stains fluoresce under blacklight.
How can we help you care for your Oriental or area rug? Give us a call today!
Smith's Fine Rug Cleaning
3867 S Valley View Blvd., #6
Las Vegas, NV 89103
(702) 566-2144
Mon - Fri 8am-5pm