Pre-Inspection & Dye Testing
Every rug is different and has individual needs. That's why we pre-inspect every rug for specific things, like rotted areas, stains, pet damage, moth infestation, and dye instability, that may necessitate an alteration to any rug care plan. Sometimes you may not even realize the damage is there, so we like to discuss these red-flag issues with you prior to cleaning.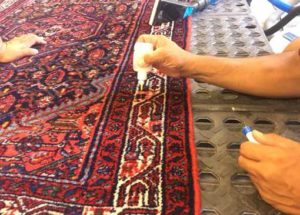 Bleeding Of Colors On Your Fine Area Rug During Cleaning Can Cause Damage That Is Difficult To Reverse. We Take Steps To Ensure That This Won't Happen To You and Your Priceless Area Rugs.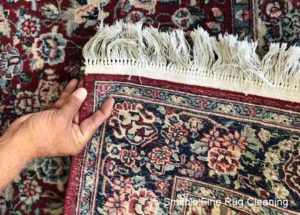 Pre-inspection is a critical step in proper rug care
Dry Soil Removal
Some rugs can handle more aggressive dusting, some cannot. That's why Smith's Fine Rug Care uses various dusting methods so that we are able to custom design a care plan that works best for your rug. We want to remove as much particulate soil and pet hair as possible before we clean it.
Air Dusting rugs to remove dry soil

Rug Washing
Smith's Fine Rug Cleaning does not use any large, automated equipment or communal wash tubs. Rather, we custom alter our Old-World cleaning process to fit the individual needs of each rug because we know and understand that no two area rugs are the same.
When it comes to caring for your fine area rugs, there is no "One-size-fits-all" method for cleaning. At Smith's, we use a variety of methods to dust, wash, and dry your rugs. Each rug is cleaned according to it's type and condition.

Pet Urine Odor Removal
Pet accidents happen and the bacteria they cause can be an odor-causing source of embarrassment. Smith's Fine Rug Cleaning fully guarantees pet urine odor removal when our suggested protocols are followed. Exclusions apply in the case of tufted rugs or extreme urine damage causing structural damage.
Watch our short video about Pet Urine & Odors
Smith's Fine Rug Cleaning
3867 S Valley View Blvd., #6
Las Vegas, NV 89103
(702) 566-2144
Mon - Fri 8am-4:30pm